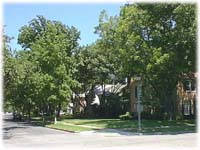 Allow me to introduce you to a very special residential area in the heart of Dallas encompassing the areas of University Park and Highland Park named the "PARK CITIES". The title springs from the lush trees, abundance of parks, and the quality of life that exists within its six square mile border. The median house price ranges between $1,000,000 and $1,300,000. There are adorable 3 bedroom, 2 bath, 1800-2200 square foot homes in the $400,000-$600,000 range as well as much larger homes priced well into the millions – The high end on 6/29/05 was about $10 million.
The attractive feature is that, although some streets dictate larger homes, most of the area is a gentle mix of property values thereby eliminating the price ceiling that you might find in a more conforming neighborhood.
The front page of my website is defaulted to all of the new listings on the market within the week in "real estate Area 25″ which encompasses the Park Cities and alittle beyond. You can also easily search for ALL of the listings in the Park Cities area – as well as all of Dallas!) on the "Search MLS" page of my site. I've tried to make it easy for you by giving you the options of searching different ways. If this area has interest for you in a forthcoming move, contact me. I would be more than happy to answer any and all of your questions on the Park Cities area or, Dallas in general. If I don't know the answer readily, I'll find out! I look forward to meeting you.